JV Women's Volleyball wins Conference Title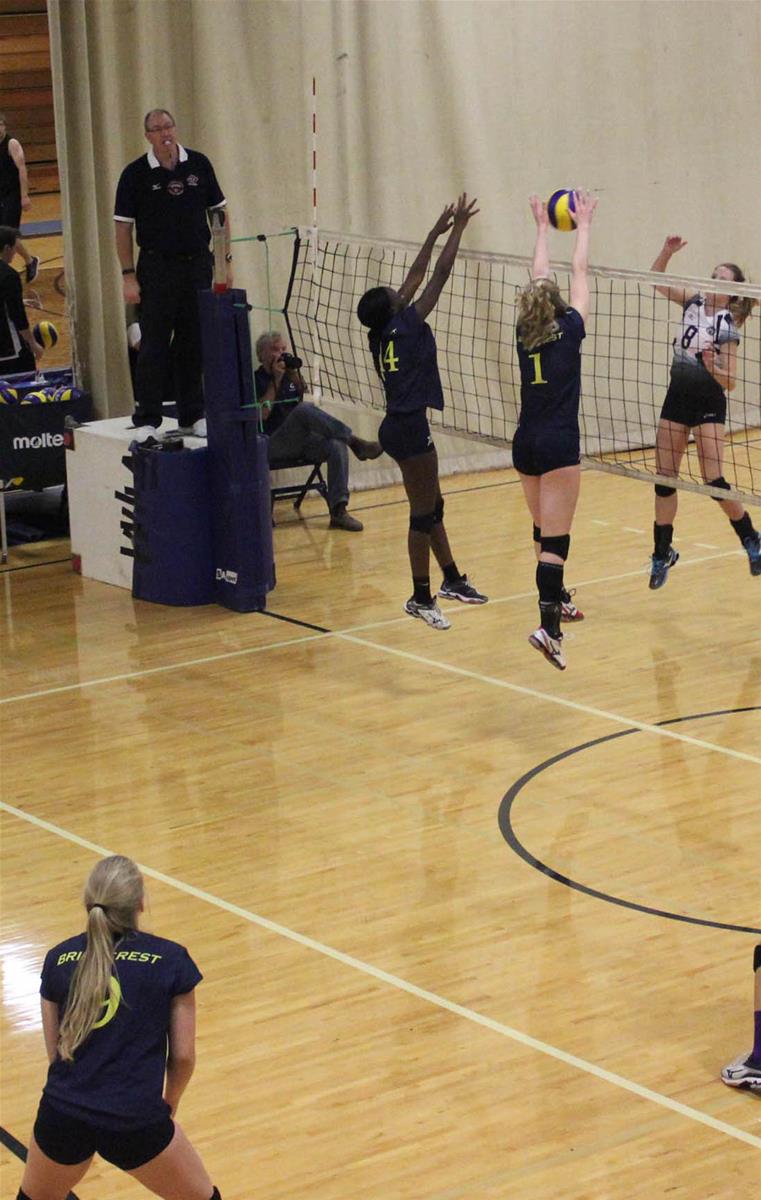 Last weekend marked the end of the Briercrest JV Women's Volleyball's 2017-18 season, which was capped off with an incredible weekend of volleyball and a PAC Provincial Championship after only their second season being in the league. The girls went 11-5 in the regular season and 4-1 in playoffs to win their conference title.
The team worked hard throughout the season and pushed themselves to learn defensive and offensive systems, which required a lot of hard work and commitment with only two returning players. Coach Richelle Vigeant explains that the team was "blessed by bringing in a strong rookie lineup, as well as two returning players who demonstrated admirable leadership throughout the season." In addition, coach Vigeant also credits her deep roster of 13 girls for helping the team grow exponentially in practices and games. She continues, "our players were always ready to make timely substitutions in matches throughout the season when we needed to."
As it was nearing the end of the season and with playoffs just ahead, the team faced some challenging opponents, but coach Vigeant saw it as a way to improve and fine-tune some areas before going into the final weekend. One school in particular the Prairie Pilots, proved to be a challenging team not just during the regular season but in playoffs as well, when the Pilots won the first match during playoffs. Briercrest came back though in their next two games against Millar and Great Plains, beating them in 2 sets. This forced the team to face Prairie again in the semi-finals, but were able to defeat them in 2 sets to move on to the championship game against the Saskatoon Amaruks.
In an exciting best-of-five game, the girls were down in the first 2 sets against Saskatoon, putting them in a must-win situation. Coach Vigeant said, "going into the third set, we found our rhythm and peaked at the right time. Our defensive system came together like it never had before, and we were able to shut down some of Saskatoon's key attackers going into the final sets of the match." Briercrest came back from their 0-2 start to defeat Saskatoon and win the PAC Title.
In addition to winning their conference, the team received a number of tournament and league awards. Briercrest was honoured with the Sportsmanship Award from the league, Karly Cheredaryk was named Player of the Year and League All-Star, Sydney Klassen was named League All-Star, Tournament MVP and League MVP and Richelle Vigeant received Coach of the Year. Overall coach Vigeant said "it was amazing to watch all their hard work and discipline... I was so impressed with how this team came together on and off the court."